How to Write Press Releases With 21 Examples and 7 Templates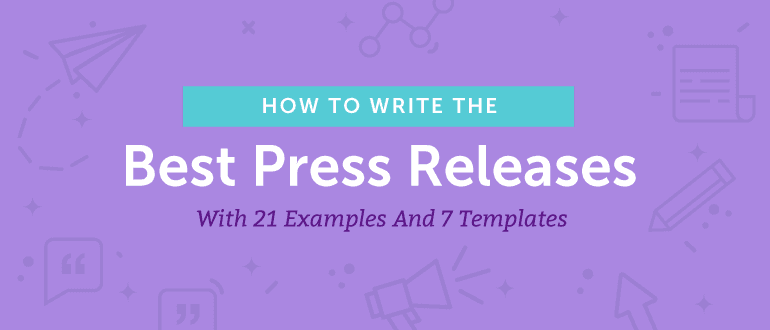 Every marketer should know how to write an effective press release. They're essential for ensuring the media and public know your latest news.
Plus, they can be cost-effective. Aside from paid distribution, they only cost your time to write.
However, you need to know how to write them well. Journalists[1] are extremely busy and only respond to the best pitches[2] they receive. If you send something sub-par, it will get deleted.
Fortunately, if you spend the time to get it right, you can tilt the odds in your favor. In this post, you'll learn:
How to identify newsworthy angles people care about. Every good news story should have a hook.
The best way to write and format press releases for easy readability. Learn how to do it right the first time, every time.
What to do to make sure your release gets read (and drives results). Stay out of the trash folder and make a real impact on your business.
Plus, you'll find several templates and examples to follow. By the time you're done, you'll know exactly how to get your organization the attention it deserves.
Get Your Press Release Templates …
Don't write releases from scratch! Instead, use this free template to make sure you nail the formatting every time. Plus, snag
Press Release Template (Word): Take the hassle out of writing and formatting press releases with six different templates.
Press Release Pitch Template: When you send a press release, you might also need to send a pitch email. Use this template for that.
All of which will help you format and create killer press releases quickly and efficiently.
… and Browse 21 More Press Releases Samples and Examples
Sometimes it's easier to replicate success when you have examples to follow. Here's a selection of press releases curated from around the web:
What is a Press Release, Anyway?
News releases are usually one or two-page documents that share breaking news with the public. They're typically read by journalists, but sometimes general audiences might stumble upon them, too. Typically, they emulate a news article format, using the reverse pyramid to place the most important information first.
Why Should My Business Send Press Releases?
Organizations of all sizes use press releases to achieve all sorts of goals[5]. Some common objectives include:
To get media coverage. This would be when your company releases a new product or feature.
To build your brand's reputation. Maybe you're re-launching your brand image and want more people to know.
To manage a crisis. When things go wrong, it's often beneficial to break the story yourself first.
To build back links from trusted media sites. This could be when you publish a new e-book, report or blog and you want a reputable source to link back to the information.
As a cost-effective way to market your organization. A well-written press release can help garner public attention due to news coverage.
What kind of results can old-fashioned PR get (without spending a lot of money)? Watch this video to learn:
This slide deck from Raven is also useful for silencing any doubters:
When Should I Send a Press Release?
Any time you have something newsworthy to share. This includes:
Breaking news announcements: News outlets want to be first to cover news when it breaks. So, lend them a helping hand.
Product launches: New products often make for good news pieces.
Events: These can offer reporters something timely and interesting to share with their audiences.
Partnerships: If you team up with another interesting company, the news may want to know.
Sharing research: Unique data and original insights are always interesting.
Awards: Don't be afraid to talk yourself up (a little bit).
Hiring new executives: At larger organizations, this can be considered important news.
Crisis management: When something bad happens, it's best to get in front of it (before someone else does).
Make sure you have something your audience (and the media's audience) will care about. This will dramatically increase the odds that your release will earn coverage.
What Information and Content Should a Release Include?
Here's what you should include in your press releases:
Headline: Be sure to make it clear why your story is interesting and important.
Press Contact: How can the media get in touch with you?
City, State, Location: Where are you, and where is your news happening?
Body copy: Order information by level of importance.
Boiler Plate: What's your organization all about?
What is the Best Way to Format Your Press Release?
Press releases generally follow a familiar format. By keeping your formatting consistent, reporters will always know where to look, for which information. So, what does a formatted press release look like?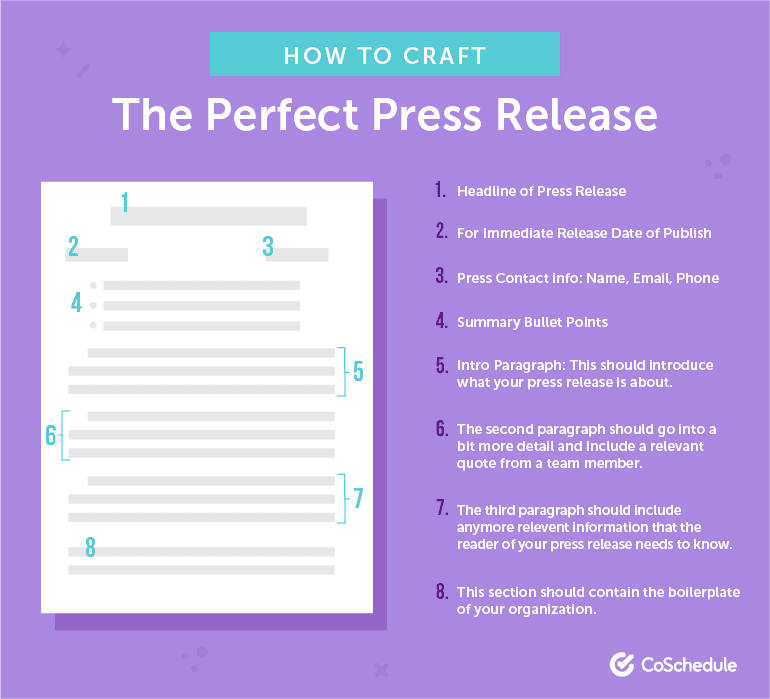 Looking for a more simple press release outline you can format yourself? Copy and paste this outline into any word processor:
For Immediate Release
Name of Press Contact:

Date:
Phone:
Email:

[INSERT HEADLINE]
Summary Bullet Point One
Summary Bullet Point Two
Summary Bullet Point Three

[CITY], [STATE] – Introductory Paragraph

[QUOTE]

[Second Paragraph]

[Third Paragraph]

[QUOTE]

Closing Paragraph

[BOILERPLATE]
Five Different Types of Releases (And Why They Work)
If you're stuck with a bit of writer's block here are five press release examples to help inspire you.
1. Apple Product Launch Press Release: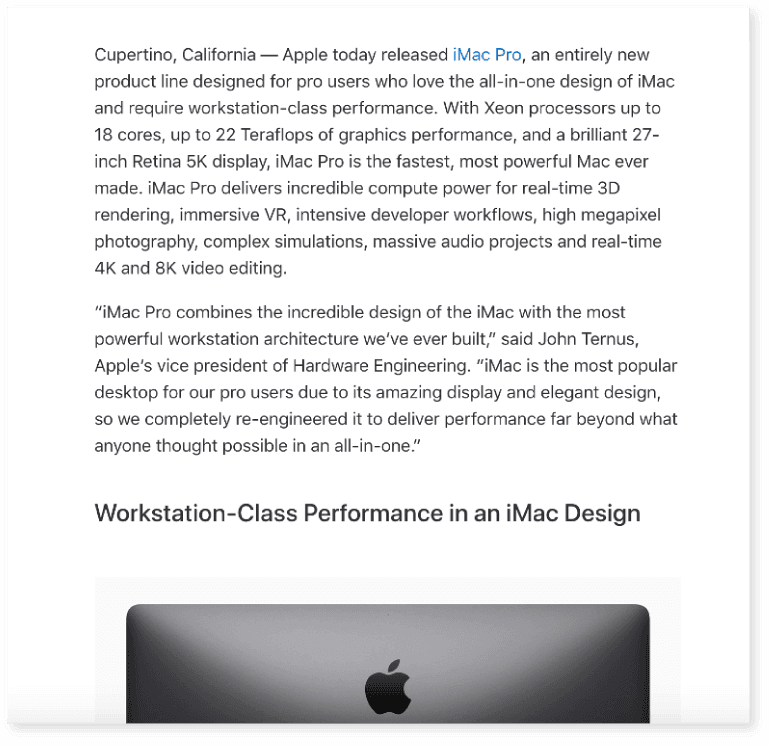 Why This Works:
Apple goes in depth describing the new model of the iMac.
They highlight the different features of the product and point out the improvements.
They include images that highlight the new design of their product.
2. Thrill of the Hunt Event Press Release Example: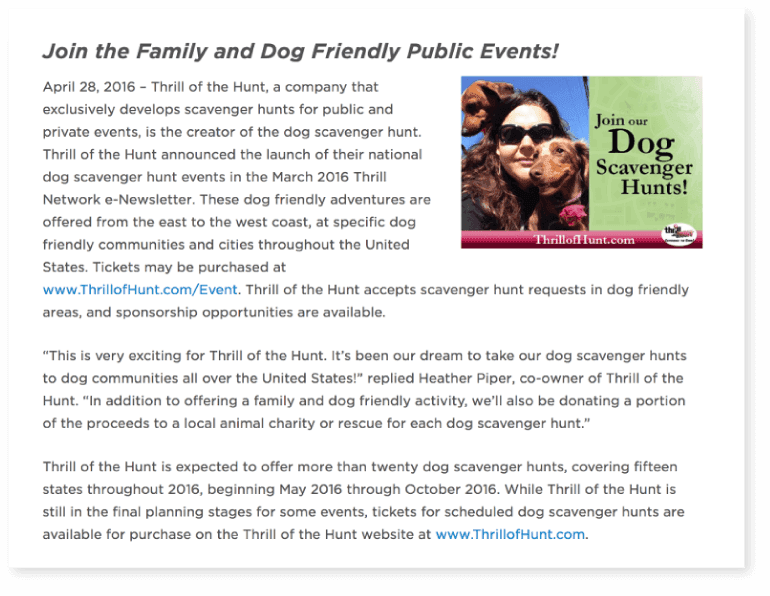 Why This Works:
All the details of the event in the introduction.
Heather Piper's quote matches the overall tone of the press release.
The website is posted throughout, making it easy to find.
News Release Example From CNN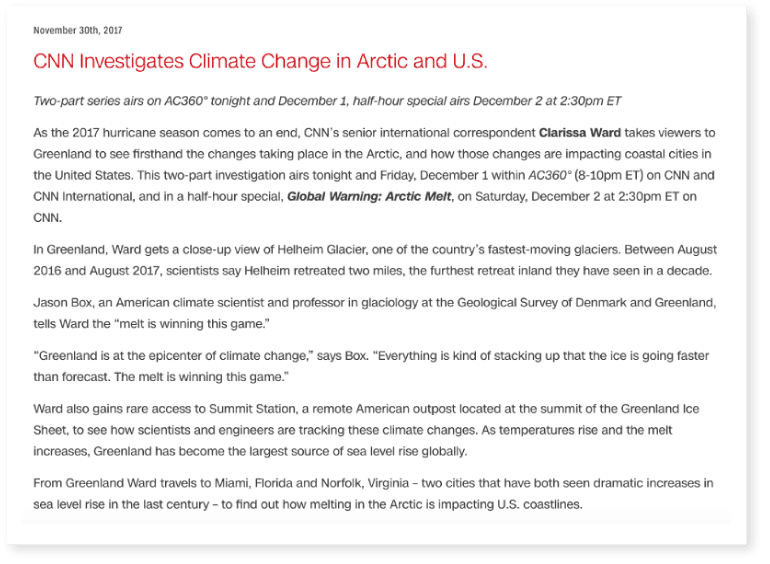 Why This Works:
The title explains what's happening.
It explains the when the event will begin and end as well as what is supposed to happen throughout the night.
It's short and concise.
New Hire Press Release From EverBlue Training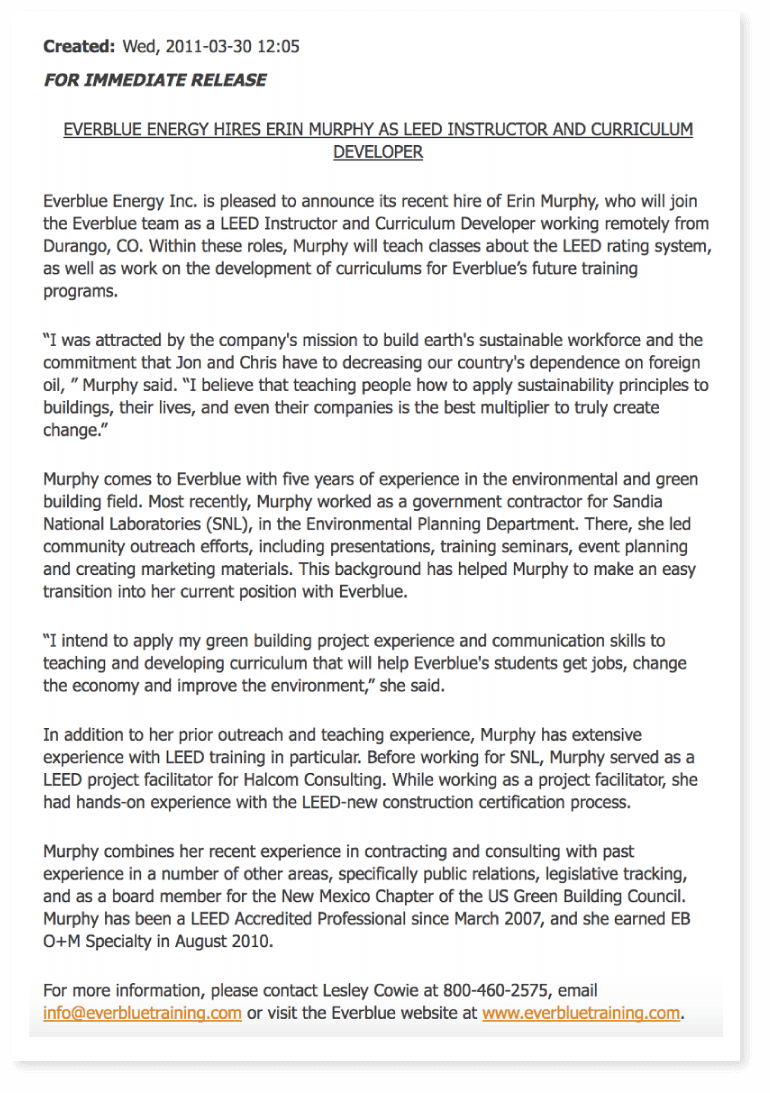 Why This Works:
The name and title of the new hire are in the headline.
It contains a quote from the new hire.
It explains the new duties and jobs that the new hire will take on.
Research Press Release Example from The Hormel Institute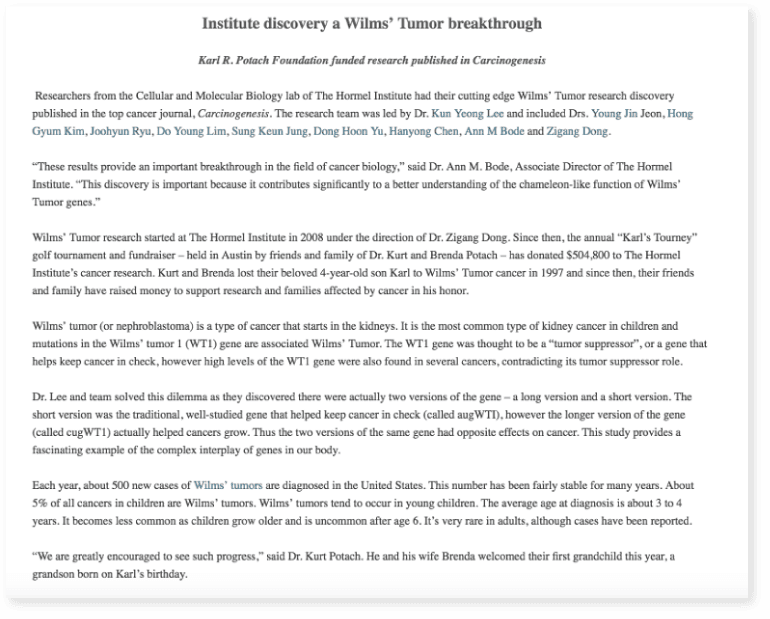 Why This Works:
It includes the research team that discovered the breakthrough.
It explains the background of the research and how it got started.
It also explains what disease the research is helping cure.
Five Basic Press Release Writing Tips and Best Practices
Now that you've got a solid template to follow here are five tips to help you create a valid press release.
1. Think Like A Journalist
If you're writing a press release to send to a journalist you need to think (and write) like a journalist. You need to be able to pitch a story that captures the attention of the journalist you're pitching to. Some tips to keep in mind:
Make the information they need easy to find.

 Don't bury the lead for your reader. Tell them upfront what the purpose of your press release is.

Keep your press release short and sweet.

Your journalist is busy, don't waste their time with fluff.

Don't overdo it.

 Everyone's organization has the best event, the best new product the best whatever it happens to be. Just don't start your press releases with that kind of clichés.
2. Make Sure Your Story Has Value to a Publication's Audience
If you're a software company sending a press release to a publication that writes about pick up trucks, why would they run a story about your organization?
When determining where to pitch your story, ensure that:
Their readership or viewership aligns with your target audience

. Do both your audiences care about the same things?

Their coverage area aligns with your product or service. Will the publication care about your company?
You can do this by reading a few issues of a physical publication, or by spending some time on their website.
3. Follow the Inverted Pyramid
This format entails putting your most important information first. Follow this visual guide: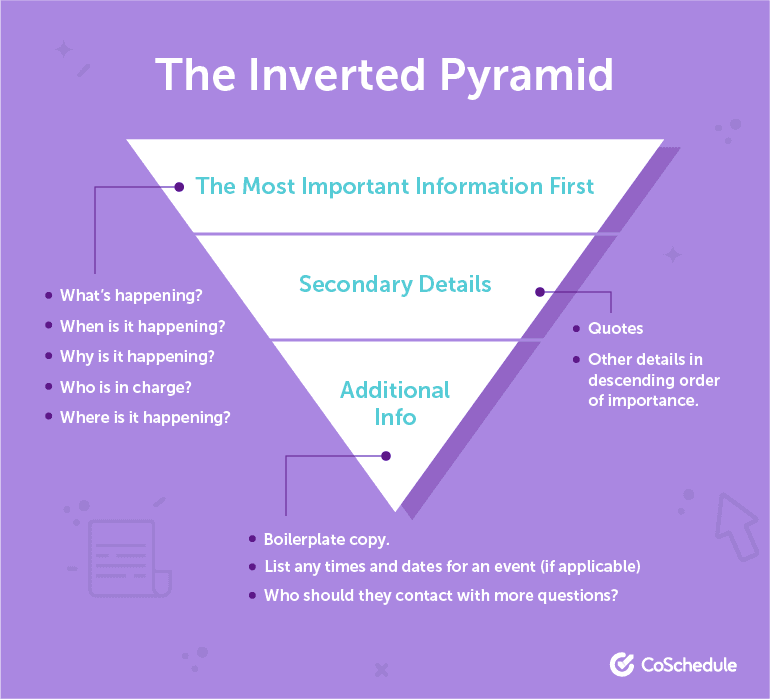 4. Include Useful Quotes
One of the most critical parts of your press release is including a quote that writers will be able to pull and use in their own story. Remember, reporters, and writers, are already super busy. The more work that you create for them, the less chance they will have of covering your story. Here's a basic example from Bobcat Company[10]: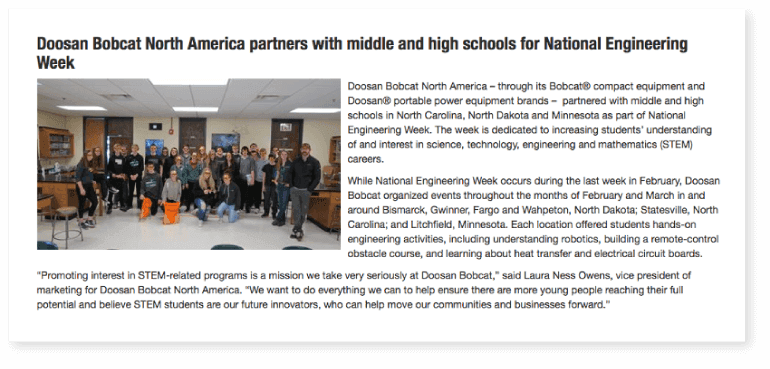 The quote at the end is clear, and can easily be copied and pasted into a reporter's news coverage.
5. Eliminate Fluff
Press releases should always be short and to the point. Reporters and editors are busy people.
6. Follow AP Style
Journalists follow AP style, and you should, too. This will make your information easier for them to use. Visit APStyleBook.com[11] to buy a physical copy or digital subscription, and make sure your writing conforms to this common standard.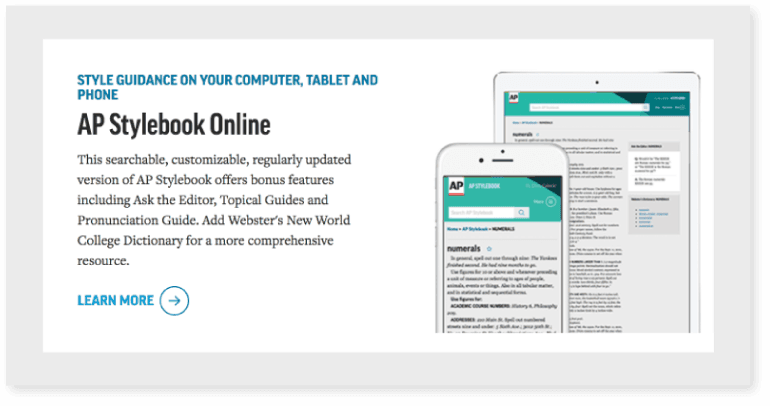 Writing a Press Release in 7 Simple Steps
Now you're ready to buckle down and write your release. Follow this process to get the job done.
1. Find Your Angle
Every good news story has an angle. An angle is the perspective your story will take. Some common angles are:
Local impact. How is your story impacting the local community?
Conflict. Is your press release giving another side to a conflict?
Progress. Is your press release highlighting progress made towards a certain problem?
Drama. Does your press release evoking an emotional response for readers?
When constructing your angle, remember the 5 W's:
Who is this story about?
What is happening?
Where is it going on?
When will it occur?
Why is it important?
Try following this template:
[WHO: COMPANY] today announced it will [WHAT] at [WHERE] on [WHEN]. The [EVENT/ANNOUNCEMENT] will provide [BENEFIT] for [AUDIENCE].
2. Write Your Headline
Your headline should grab the attention of your audience. That could include a reporter, editor, business partner, or a general audience.
For headline writing help, use CoSchedule's Headline Analyzer[13].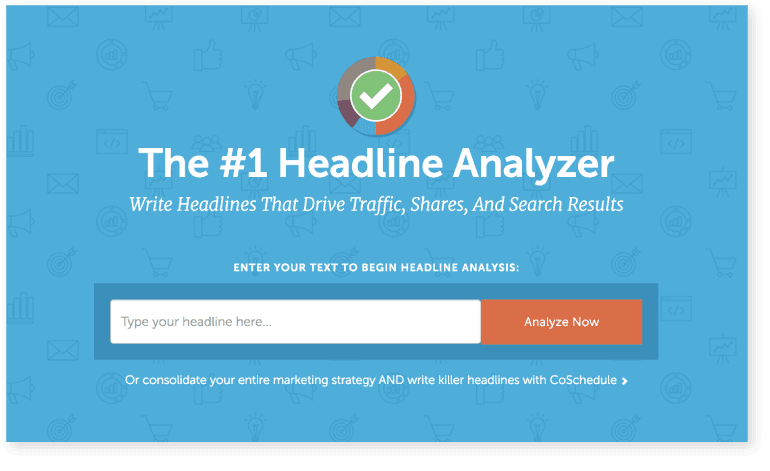 3. Write Your Lede
The lead of your press release is the first paragraph that appears underneath your summary bullet points.
The most critical information should be in this first paragraph, including:
An angle or a hook. This is what will get your audience interested.
The 5 W's (as many as are relevant). It's an old school journalism best practice, but it'll make sure your release is informative.
A reason for a reporter or editor to care. They get lots of pitches every day. Put them first, and only send something they will be interested in.
Here is an example from Doctors Without Borders[14]:

This lede includes each of the following:
A clear explanation of the 5 Ws. The who (Doctors Without Borders), what (an awareness campaign), when (International Chagas Disease Day), where (Latin America), and why (severe public health issue) are laid out in a logical progression.
A hook. Typically, when one hears the phrase "big heart," we think of something positive. However, this campaign uses this turn of phrase to explain the dangers of Chagas disease (heart issues).
A reason to care. It's a major health concern, affecting more than 6 million people globally. That certainly sounds relevant.
This is a perfect example to emulate when writing ledes for your own releases.
4. Write 2 – 5 Strong Body Paragraphs With Supporting Details
The next several paragraphs should tell the complete story (in a concise way). The most important supporting details should be included. Each paragraph should be concise, ideally keeping your release under a page.
5. Include Quotes
Your best bet is to write the quotes yourself then send them to the subject you're quoting for approval.
Quotes don't have to be complicated. In fact, there are three things you can do to ensure that you have the perfect quote in your press release:
What purpose does this quote serve? Is it helping tell the story of your press release?
Sound like the person you're writing the quote for. Don't use big elegant words if the person you're writing your quote for doesn't.
Always attribute your quotes. Tell them who is saying what and why.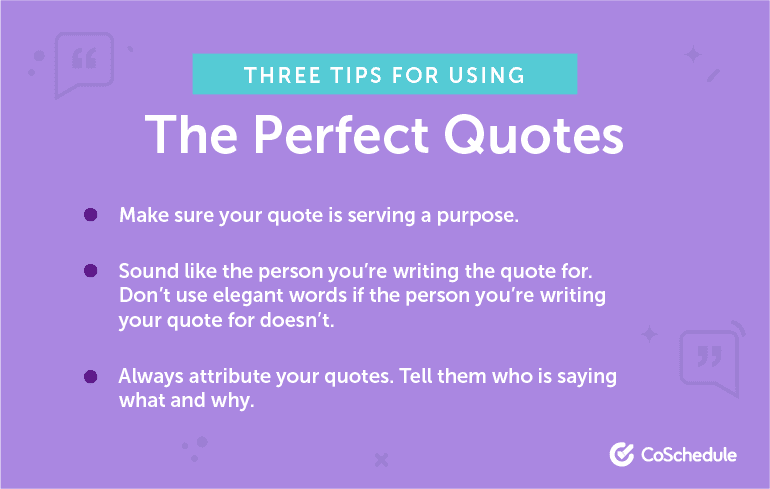 Think about the style and language that your subject would use and once you have two or three potential quotes written, send it to them for feedback.
6. Include Contact Information
The people reading your press release need to know who to contact for more information. Include the following information:
Point of contact: This should be a name and job title for who to reach.
Email address: Give them the best one to reach the preferred point of contact.
Phone number: In case they'd like to call, rather than email.
You might also include a mailing address.
7. Include Your Boilerplate Copy
According to PRowl Public Relations[15], a boilerplate is:
"A boilerplate is usually found at the end of a press release, and briefly describes the company or organization related above. The short paragraph consisting of just a few sentences concisely explains the company or organization."
The boilerplate should appear on every release you send. Include the following information:
The name of your organization

Your mission statement.
Founding dates.
Company size.
A brief statement on what your organization is doing today to fulfill the ideas in your mission statement.
Here are a few of examples:
Apple Boiler Plate Example:
Apple[16] revolutionized personal technology with the introduction of the Macintosh in 1984. Today, Apple leads the world in innovation with iPhone, iPad, Mac, Apple Watch, and Apple TV. Apple's four software platforms — iOS, macOS, watchOS and tvOS — provide seamless experiences across all Apple devices and empower people with breakthrough services including the App Store, Apple Music, Apple Pay and iCloud. Apple's more than 100,000 employees are dedicated to making the best products on earth, and to leaving the world better than we found it.
Target Boiler Plate Example:
Minneapolis-based Target Corporation[17] (NYSE: TGT) serves guests at 1,834 stores and at Target.com. Since 1946, Target has given 5 percent of its profit to communities, which today equals millions of dollars a week. For more information, visit Target.com/Pressroom. For a behind-the-scenes look at Target, visit Target.com/abullseyeview or follow @TargetNews on Twitter.
Theatre B Boiler Plate Example:
The purpose of Theatre B[18] is to invigorate civic conversation through intimate and transformative story-telling. Since 2003, the Ensemble and guest artists of Theatre B have brought to life a wide variety of the latest award winning plays and bold new works. Theatre B prides itself on removing barriers between actor and audience, creatively using space and intimate storytelling to intensify the audience experience. Theatre B productions are timely and relevant, inspiring a sense of community, engaging conversation, and prompting viewers to contemplate the stories long after they have left the theatre.
When Should You Send Your Press Releases?
Sending your press release at the right time is crucial to help get the release you wrote the maximum amount of exposure. The most important stories get sent early in the week, while stories companies want buried usually goes out on a Friday afternoon (don't do this). Editors typically assign stories early in the week, so aim for Tuesday, beating the Monday rush while still getting in front of them at a good time:
How Should You Distribute Your Press Releases?
You've now written a perfect press release. Now, it's time to make sure it gets read. This will most likely entail:
Pitching your story directly to a few carefully selected editors. Editors like having exclusives. If your story is perfect for one particular publication, consider offering it to them alone.
Blasting it out using a wire services. This way, it can get picked up by tons of different outlets.
Or, you might do both. Services such as Cision[20] make it easy to find reporters and deliver press releases en masse.
If you don't have the budget for Cision, consider building your own database of reporters and editors manually. This can be something as simple as a spreadsheet.
Review Your Work With This Checklist
Before sending your release, double-check that it's error-free:
Is the release date correct?

For immediate release in the top corner?
Is the publish date correct?

Is the contact information in the right-hand corner?
Is the location of the organization in the correct all caps format?
Is all the relevant information in the top paragraph of the press release?
Is the boiler plate at the bottom of the template?
Are the pound signs in the correct places?
Is the spacing formatted correctly?

Two lines between each paragraph?

Is the press release error-free?

Spelling
Grammar
Any incomplete sentences?

What time is the press release being published?
Are the contacts in our media list up to date?
Plan Each Press Release On Your Editorial Calendar
Journalists and editors use editorial calendars to plan stories and themes months in advance. You can do the same using the calendar template included in this post. Here's what it looks like: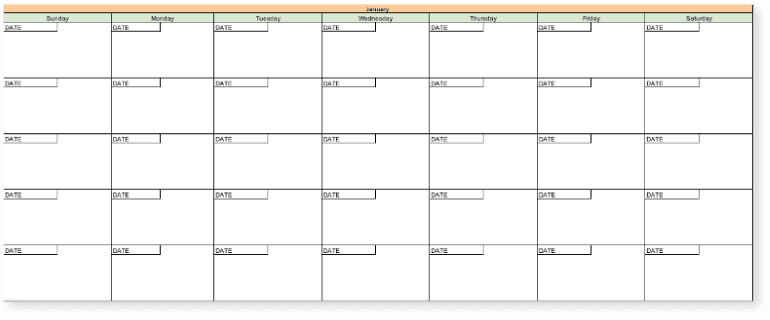 Map out ideas and denote send dates for media pitches across your calendar. For more info on using a calendar, check out these posts:
Where Should You Send Your Press Release?
If you decide to send your press release to different new outlets or publications make your list in advance. Some potential ideas to look into are:
Industry publications.
Local newspapers.
General news sites.
Bloggers.
Industry partners.
Start small and build your list of trusted contacts over time. Eventually, it'll be easier to get bigger publications to write about you.
Now Go Write An Awesome Press Release
Now you have all the tools you need to create an amazing press release and get the recognition your company deserves.
See how CoSchedule can help you plan and deliver all your press releases from start to finish by signing up for a demo[23] or starting a two week trial[24].
Have a few of your own press release tricks? Tell us about them in the comments below.
This post was most recently updated with new information on June 25, 2018.
June 25, 2018
Source URL: Read More
The public content above was dynamically discovered – by graded relevancy to this site's keyword domain name. Such discovery was by systematic attempts to filter for "Creative Commons" re-use licensing and/or by Press Release distributions. "Source URL" states the content's owner and/or publisher. When possible, this site references the content above to generate its value-add, the dynamic sentimental analysis below, which allows us to research global sentiments across a multitude of topics related to this site's specific keyword domain name. Additionally, when possible, this site references the content above to provide on-demand (multilingual) translations and/or to power its "Read Article to Me" feature, which reads the content aloud to visitors. Where applicable, this site also auto-generates a "References" section, which appends the content above by listing all mentioned links. Views expressed in the content above are solely those of the author(s). We do not endorse, offer to sell, promote, recommend, or, otherwise, make any statement about the content above. We reference the content above for your "reading" entertainment purposes only. Review "DMCA & Terms", at the bottom of this site, for terms of your access and use as well as for applicable DMCA take-down request.
Acquire this Domain
You can acquire this site's domain name! We have nurtured its online marketing value by systematically curating this site by the domain's relevant keywords. Explore our content network – you can advertise on each or rent vs. buy the domain. Buy@TLDtraders.com | Skype: TLDtraders | +1 (475) BUY-NAME (289 – 6263). Thousands search by this site's exact keyword domain name! Most are sent here because search engines often love the keyword. This domain can be your 24/7 lead generator! If you own it, you could capture a large amount of online traffic for your niche. Stop wasting money on ads. Instead, buy this domain to gain a long-term marketing asset. If you can't afford to buy then you can rent the domain.
About Us
We are Internet Investors, Developers, and Franchisers – operating a content network of several thousand sites while federating 100+ eCommerce and SaaS startups. With our proprietary "inverted incubation" model, we leverage a portfolio of $100M in valued domains to impact online trends, traffic, and transactions. We use robotic process automation, machine learning, and other proprietary approaches to power our content network. Contact us to learn how we can help you with your online marketing and/or site maintenance.